Burkina and Mali are probably two of the most misunderstood countries in West Africa. With the help of our local expert crew, we'll explore the beauty of their Sahel architecture, the ethnic groups that live there and the impressive landscapes they have to offer. A thrilling combination of monuments, culture, people, and outdoors in two of the least explored countries in the World. This adventure isn't for everybody, but one thing is certain: the stories will be memorable!
Burkina and Mali are open for tourism – a negative PCR test < 5 days is required to board the plane.
Day 1: Ouagadougou.
The Expedition starts in Ouagadougou, the capital of Burkina Fasso. Those of us flying from Cotonou will land at 11am. After clearing with immigration and customs we will meet with our other fellow Expeditioners arriving that same day and explore the city's sights.
In the evening, we'll have time to bond before our exciting journey ahead.
Overnight in Ouagadougou.
Day 2: Ouagadougou to Gaoua.
On our road to Gaoua, we'll stop in Sabou to visit the sacred crocodiles.
After that, we continue South, to the land of the Gan, famous for its Kings, fortified homes and being gold searchers. We'll visit a few villages and ethnic groups in this region.
Overnight in Gaoua.
Day 3: Gaoua to Banfora.
In the early morning, we continue our visit of Loby Country and journey on to the Domes of Fabedougou, a famous rock formation in Burkina.
We'll continue our journey to Lake Tingerela, where we will spot hippoes and a gorgeous waterfall.
We will spend our afternoon with the Senufo tribe.
Overnight in Banfora.
Day 4: Banfora to Bobo.
We'll drive to Bobo and explore this stunning city, with the ancient mosque, one of the most significant ones in the region, and its bustling market.
Bobo Dioulasso is famous for being the city of music in West Africa.
Overnight in Bobo.
Day 5: Bobo to San.
Today will be a big day: we'll overland into Mali!
Our itinerary is flexible and will vary depending on how long the journey and the border cross takes us. But fear not, crossing overland from Burkina to Mali IS the adventure itself.
Overnight in San.
Day 6: San to Djenné.
We wake up for sunrise and head to Djenné, the highlight of our trip. It's the home of the legendary Great Mosque of Djenné, a mud building that defies gravity and the elements. It's an architectural gem and a gift to experience it in our lifetimes.
The town of Djenné is very special and we'll mingle with its locals that gather around the Mosque's square, where everything happens.
Overnight in Djenné.
Day 7: Djenné to Bamako.
We wake up for sunrise for one last glance at the beautiful Mosque.
Then, we proceed to Segou, a sizeable town with impressive mud buildings by the river Niger.
In the evening, we'll reach Bamako, the country's capital, and go out for a walk and dinner in town.
Overnight in Bamako.
Day 8:  Goodbyes and Fly out
After breakfast, the worst moment of every Expedition: we say goodbye. The Expedition is finished and we fly out.
If time allows (depending on our flight connections) we might do another quick tour of the city before we head to the airport.
Accomodation
Shared twin room in 3/4-star hotels (when available).
Guides
Expert local guide and fixer.
Transport
Private vehicles, fuel and drivers
Food
3 meals a day.
Visa Support
We'll help you get the visa or arrange a visa on arrival for you.
Contribution to local communities
We try to create an impact contributing to every local community we visit.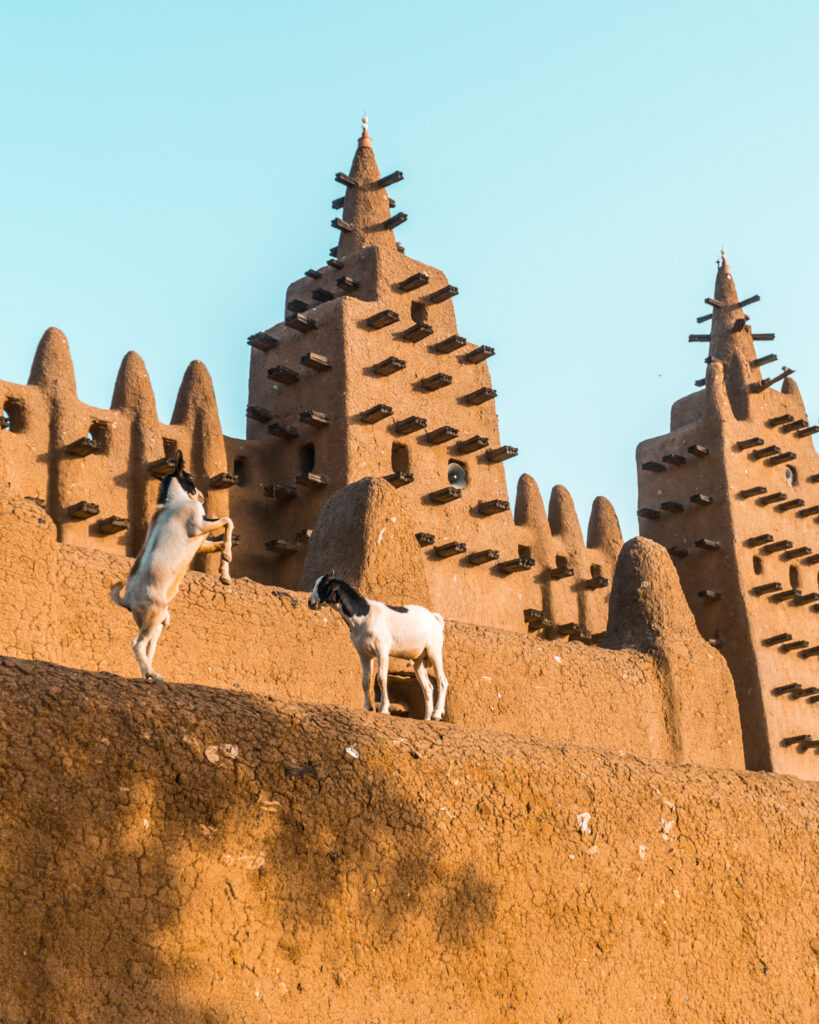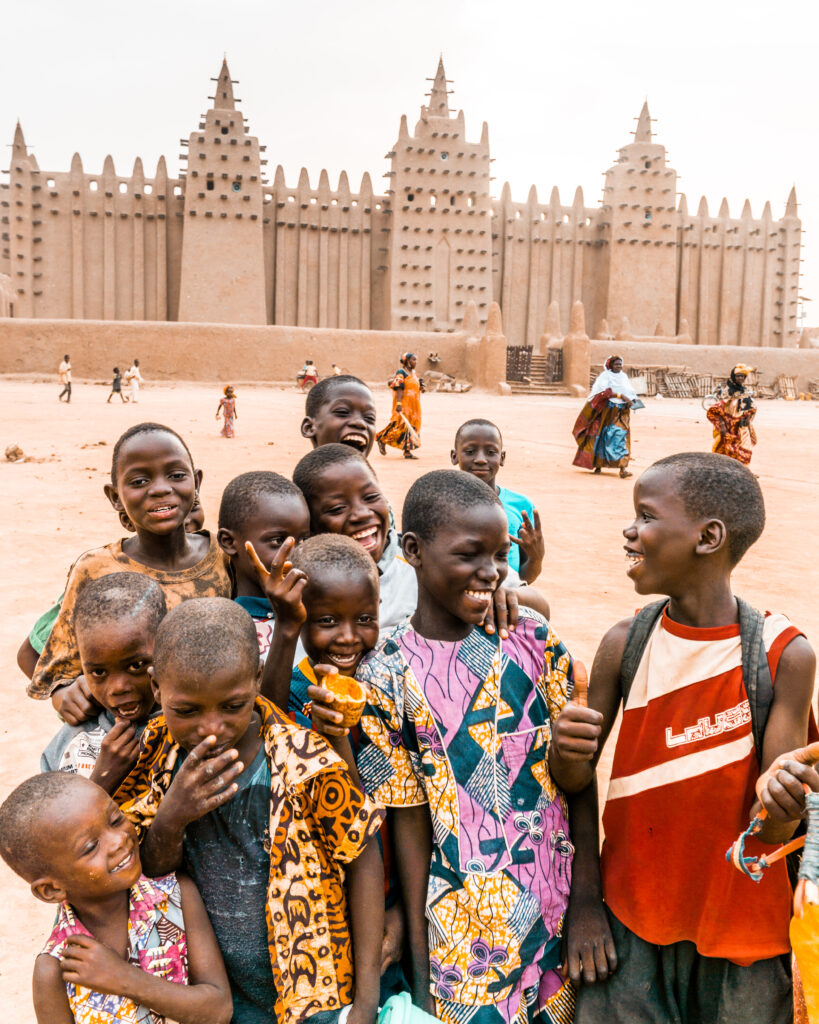 We can arrange visas on arrival for you for both destinations (Mali costs 55€ and Burkina around 150€). However, due to the cost, we suggest you apply for the Burkina visa at your nearest Embassy, since the fee is significantly lower (30€). We can give you visa support when the time comes.
Wander Expedition doesn't book flights for you and is ultimately not responsible for your flight connection, but we can offer guidance and support when you research the best options for you. If you join the Togo & Benin Expedition, we'll all fly in together on November 11th. If you are only joining for Burkina & Mali, we recommend you land in Ouagadougou early that same day, or a day earlier to have more time in the capital.
Both can be quite dangerous but we will remain in stable areas at all times and we will be always accompanied by an expert local crew, which will help us interact with locals and have the best possible experience. This Expedition certainly involves risks and so it requires everyone to be very flexible as security will always be our first priority.
For experienced travelers joining us on Burkina and Mali you'll get to meet a very fun group of people to share the adventure. Inexperienced travelers will grow to the challenge in these destinations, but one thing is clear, its the kind of Expedition that will be full of epic stories! The Burkina and Mali Expedition is perfect if you are looking for an adventure and creating stories with a powerful human connection and photogenic landscapes.
If you want to be one of the fortunate people selected for our Mali & Burkina Expedition:
Make sure the dates work with you before you start the selection process.
SAY YES and complete our online application form below.
Once you've applied and signed up to Wander Expedition, we'll update you as you move on in the selection process. Check your Spam folder regularly in case the automated emails go there!