This is a once-in-a-lifetime opportunity to explore the hidden gem of Libya, a country that has been off-limits to tourists for over a decade due to Civil War. Get ready for a thrilling adventure as we journey through Libya's rich history, from the underrated World Wonder of Leptis Magna to the hidden treasures of Sabratha. We'll even venture deep into the Sahara desert, to the legendary city of Ghadames, once a bustling hub on the trade routes to Timbuktu. We'll witness the scars of conflict and politics that have shaped this remarkable country. Join us on a road trip along the lesser known country in the Mediterranean, and discover the magic of Libya for yourself!
Day 1: Arrival in Tripoli.
We will fly with Tunisair (roundtrip ticket costing 150 euros) from Tunis to Mitiga, Tripoli. In the afternoon, we will spend time in the capital, taking a leisurely evening stroll, and enjoying a warm welcome dinner.
Day 2: Jebel Nafusa, Qasr El Haj, Tarmeisa, Ghadames.
After breakfast, we will drive 70 km south of Tripoli to face the magnificent wall of hard rock – Jebel Nafusa. Rising abruptly from the desert plain of Jefara, the mountain reaches a height of over 750 meters, with the highest peak measuring a modest 968 meters. Although the mountains are awe-inspiring, bare, rugged, and savage without vegetation, the fertile plains on the mountain high plateau are full of olive, fig, fruit trees, and vineyards. We will embark on a fascinating journey to Jebal Nafusa, the heartland of the Berber people of Libya. We will visit the magnificent 12th century fortified granary of Qasr al-Haj (chosen as one of the World's 80 Greatest Treasures in a recent BBC series) before proceeding to Tarmeisa. From Tarmeisa, we will catch fantastic views of this deserted and ancient stone village, which clings to a narrow rocky outcrop, overlooking a stunning down off the escarpment over the Sahel Al Jefara, with its hundreds of valleys heading northwards. Lunch will be served in Kabaw (sometimes taken in a traditional house in Tarmeisa, not in hotel Tebres in Kabaw). Later, we will descend the mountain and head further south into the Sahara until we arrive at Ghadames, one of the most ancient towns in the Libyan Desert. We will spend the night in Ghadames.
Day 3: Ghadames.
Ghadames was an important stopping-off point in the trans-Saharan caravan routes between Timbuktu and the Mediterranean coastal cities of Libya. Old Ghadames town will be the focus of our guided tour this morning. It was surrounded by a semi-circular wall accessed by several gates that were closed each day at sunset. Buildings were constructed of sunbaked clay bricks, clustered around seven main streets. Each street ended at a small square used for public gatherings. Narrow roofed alleyways connect the main streets, and houses are joined, providing 'streets' running along the rooftops. Men traveled along the lower streets, while women had to walk along the upper streets between sunrise and sunset. The Old Town, though now deserted, is still very atmospheric, with this unique style of Saharan architecture. During our walking tour, we hope to visit a traditional house and several interesting mosques. Later in the day, it is usually possible to take an excursion into the steep dunes close to Ghadames to enjoy a sunset over the mountains of Algeria and enjoy some green tea and traditional Mella bread.
Dinner and overnight in Ghadames.
Day 4: Khabaw, Gharyan, and Tripoli.
On the fourth day, we will leave the Sahara behind and make our way back towards Tripoli. Our first stop will be in Khabaw for lunch before continuing on to Gharyan, located at the foot of the Nafusa Mountains plateau, approximately 50 miles (80 km) south of Tripoli. Gharyan was a key town on the trade routes to Fezzan and over the Nafusa Mountains. By 1884, the Ottomans had established a mayor and town council in Gharyan. It was considered the center of Libyan resistance against the Italian invasion in the early 20th century. With a population of 85,219, it is the largest city in the area, and olive oil processing, flour milling, carpet weaving, and pottery making are the main occupations. Gharyan's famous troglodyte caves are a major attraction for tourists, and the name "Gharyan" means "cave" in Arabic. These caves were dug vertically into the rocky ground.
We will stop at the Al-Qawasem area in Gharyan, famous for its fine pottery, due to the quality of the clay. This industry is one of the national industries that Libya is proud of, and some shops participate in exhibitions held in Tripoli, where their products are admired and purchased by visitors. Later, we will return to Tripoli for dinner and overnight stay.
Day 5: Leptis Magna.
On the fifth day, we will visit the outstanding site at Leptis Magna, one of the greatest ancient sites in the world. Originally a Phoenician trading port, it prospered for nearly 1000 years before being brought down by Vandal invasions and sandstorms. During the reign of Libyan Emperor Septimius Severus, it was second only to Rome and housed over 100,000 people. This vast city remained buried for some 1300 years, and it was not until the 1920s that a major excavation by Italian and Libyan archaeologists revealed the limestone and marble wonders that we explore today. After our visit, we will have lunch nearby the site before continuing to Misrata, a city that was key in the recent civil war and still shows the scars of it. Dinner and overnight stay in Misrata.
Day 6: Misrata & Tripoli
On the sixth day, we will explore the Mediterranean coast of Libya, including ancient ruins of Roman villas overlooking the sea. We will have a full day of exploring the capital, from the old part of town to the modern side of Tripoli. Dinner and overnight stay in Tripoli.
Day 7: Sabratha.
After breakfast, we will drive to Sabratha, one of the most visited historical sites in Libya. This city dates back to 500 BC and is now a UNESCO World Heritage Site. In 500 BC, the Phoenicians used Sabratha as a seaport and important trading post, and the Romans also utilized the area for its harbor. The city was damaged in a fourth-century earthquake and was later rebuilt to become one of the most popular tourist attractions in Libya today. The theater is probably the most popular site in Sabratha, dating back to around 175 AD, with a large 43-meter stage. It is believed that the theater could accommodate up to 5,000 spectators. There are also baths, temples, and a spectacular amphitheater that could house up to 10,000 spectators who would arrive to watch the duels that took place.
Later, we will return to Tripoli for our flight out.
Hotels
4* hotels (when available).
Guides
Expert local guide and fixer.
Transport
Mini bus with driver.
Food
Most meals included.
Entrance Fees
All entrance fees to sites on your itinerary.
Visa Assistance
You will likely have visa on arrival for your nationality, but if you don't, we'll assist you to apply for a visa at the Libyan Embassy nearest to you and provide you with a letter of invitation. Even Americans applying in DC!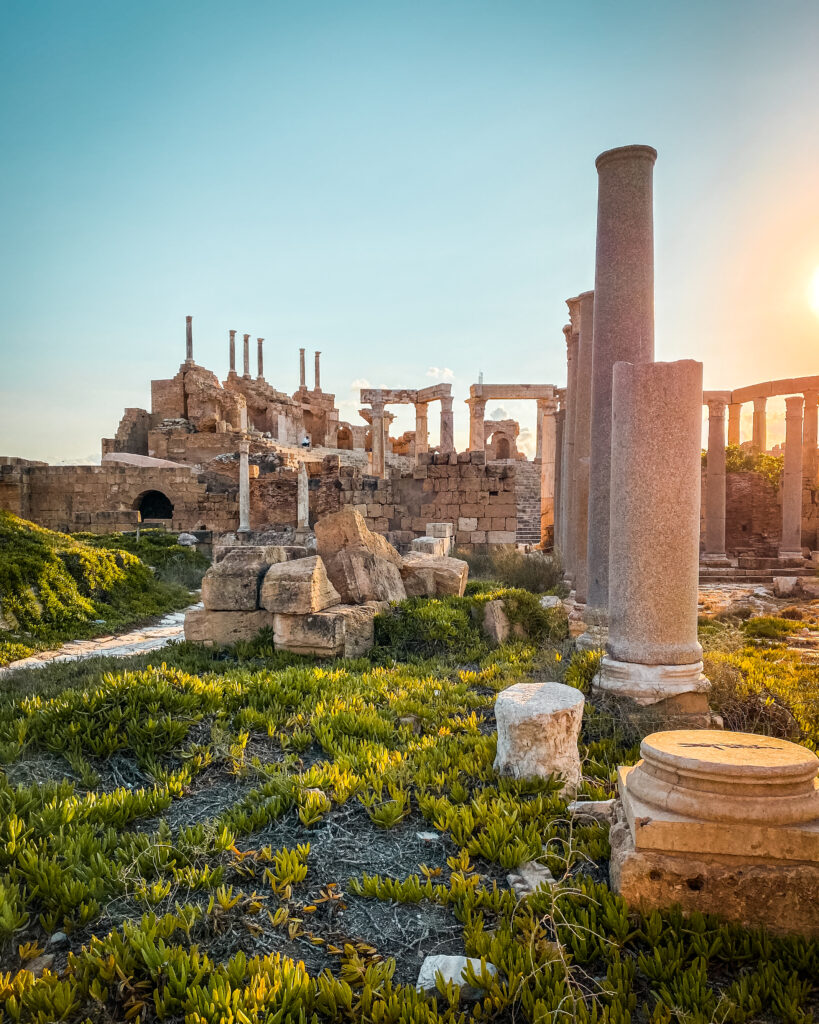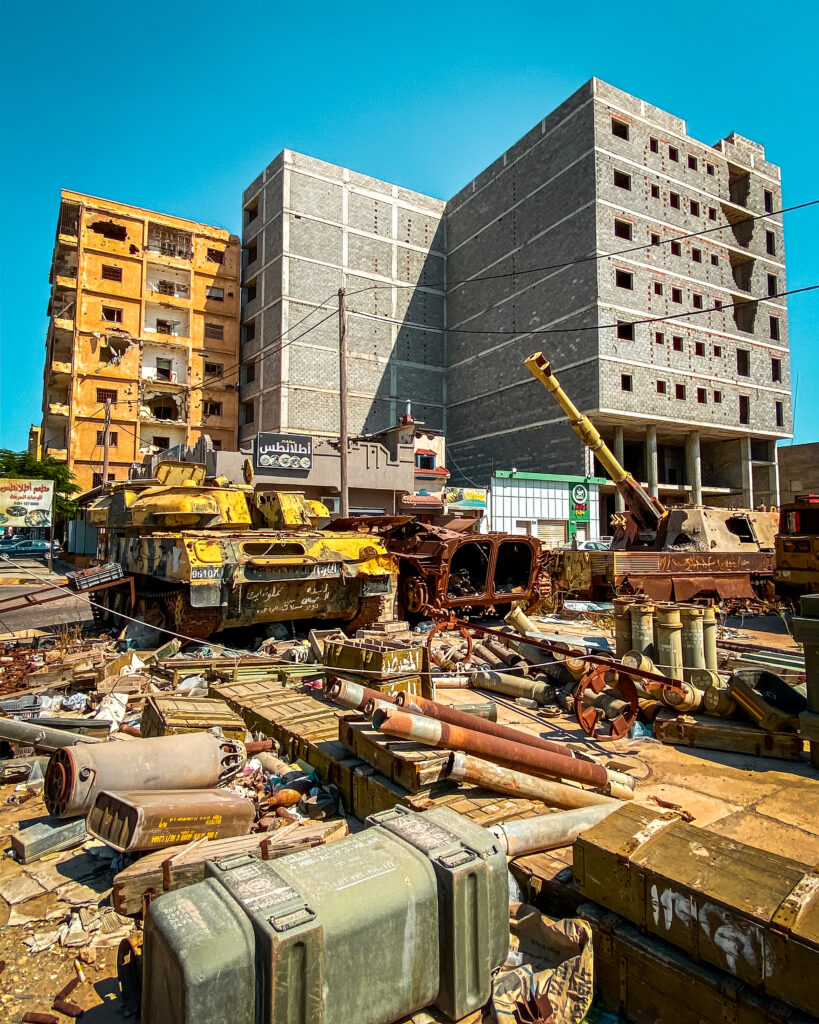 You will likely have visa on arrival for your nationality, but if you don't, we'll assist you to apply for a visa at the Libyan Embassy nearest to you and provide you with a letter of invitation. Even Americans applying in DC!
Wander Expedition doesn't book flights for you and is ultimately not responsible for your flight connection, but we can offer guidance and support when you research the best options for you. We will be flying from Tunis to Mitiga International Airport. Flights are 150 euros return with Tunisair.
While in Libya we will be accompanied by an expert local crew at all times, which will apply for all our necessary permits, navigate through checkpoints and help us interact with locals and have the best possible experience.
This Expedition is perfect for those seeking to explore this secluded country, one of the most off the beaten path you can find! Ancient history, rich culture, warm hospitality and tasty mediterranean food!
Wander Expeditions is not a traditional travel agency where the first to pay is the first to go. We take you to stunning destinations, but we know the people you share it with is even more important when you travel. That's why we have a refined selection process where we filter and vet candidates to ensure that groups are fun, balanced, diverse and interesting! We make sure candidates are on the same page and share our values of being fun, flexible and fearless, so we can guarantee everyone will have an amazing experience. We create travel families, so #trusttheprocess. Halfway through our process, we share the price with all pre-selected applicants. It only takes 15 min to apply, so you literally have nothing to lose! What are you waiting for to join the Wander Fam?
If you want to be one of the fortunate people selected for our Libya Expedition:
Make sure the dates work with you before you start the selection process.
SAY YES and complete our online application form below.
Once you've applied and signed up to Wander Expedition, we'll update you as you move on in the selection process. Check your Spam folder regularly in case the automated emails go there!