Saudi has reopened for tourism very recently and despite being the biggest country in the Middle East it's also one of the most secluded ones, after decades of not receiving any tourists. Now that it's opening up again, are you going to miss it?  This is the perfect itinerary, where we will explore historical sites (Madein Saleh and Al Balad), stunning outdoors (oasis, deserts and the Red Sea) and the diversity of Saudi local culture (Al Ula, Medina, Jeddah). Join us in exploring one of the World's best kept secrets before it changes forever.
Day 1: Jeddah
On every Wander Expedition we want to maximize our time exploring. Therefore, you should arrive at least a day early, on November 24th, to Jeddah, so we can leave explore the city early in the morning of our first day, November 25th.
We'll check out the Corniche, the World's biggest Flagpole and World's biggest fountain and explore in depth the old town,  the Unesco WHS of Al Balad.
Overnight in Jeddah.
Day 2:  Yanbu
Today we will be driving to Yanbu which will take us 3 hours and a half. Once we arrive will get ready for a half day activity in the red sea, we will take a private boat and move around to a nice and well-preserved spot known to have rich coral reeves and colorful fishes. If we are lucky, we could see dolphins as well. The spots that we will visit will be perfect for a swim or snorkel where you will enjoy a crystal-clear view of the under-sea corals.
This boat trip will include a light lunch and snacks , while you can relax and enjoy the gorgeous Red Sea.
Overnight in Yanbu.
Day 3: Rock art and Al Ula
After breakfast today we drive to Al Ula which we will take us around 4 hours. Once we arrive, we will head to the most popular historical site in Saudi Arabia, Madain Saleh, the first to be listed as a UNESCO Word Heritage. Madain Saleh was the second largest city of the Nabatean kingdom whose capital was Petra (Jordan) where the Nabatean people created more than 600 tombs.
After our tour, we will take you to the Elephant Rock, one of AlUla's many geological marvels.  The beauty of the unrefined structure is enhanced by its surroundings of a fine-sand sea studded with rocky outcrops, many of which are equally impressive in size and have interesting shapes and figures. The area has very nice atmosphere with a cafe and restaurant, the seating area are build underground filled with magical lights that its just wonderful to witness the sunset.
Overnight in one of Al Ula's

 biggest and most beautiful local farms.
Day 4: Dissah Valley
Today we'll daytrip to Wadi Al Dissa. When we reach the Oasis, our local crew will be preparing a traditional delicious lunch that we will feast on in the best surroundings. After lunch we will take you on a walking tour inside this gorgeous valley and
explore Wadi Dissah which is a 15 kilometer long canyon running through the Jebel Qaraqir, a sandstone massif lying
about 80 kilometers south of the city of Tabuk. This natural wonder was for a long time a well-kept secret among explorers.
The first striking feature of this wadi is its dimensions: at the eastern entrance of the canyon the side cliffs are already higher than 100meters,but at the western entrance the gap between the bottom of the wadi and the tallest cliffs reaches as high as 500 meters! It is there, from the massive rocky peaks, standing on both sides of the canyon, that one can admire the most dramatic scenery of this magical place.
The second – and most unexpected – amazing feature of Wadi Qaraqir is a water stream that runs through the western part
of the canyon towards the city of Dissah. While you are exploring Wadi Qaraqir from the eastern entrance will find abundant
palm trees growing naturally along the wadi bed. But once half-way through the canyon underground water tops up all year
long. As a result, lush vegetation made of 3 meter high grass, numerous palm trees and bushes, flourishes in between the
majestic cliffs of the canyon!
Overnight in Al Ula.
Day 5: Al Ula
After breakfast, we make our way to Ikma Mountain and Al Ula's Old Town.
For lunch, we will feast on a home cooked meal where we will try the local traditional dishes.
In the afternoon, we will go up to Harra View Point for the best view of Al Ula's Valley at sunset.
Overnight in Al Ula.
Day 6: Medina
Today after breakfast we will drive to Medina which is around 3 hours. The first place visited is The International Fair and Museum of the Prophet's Biography and Islamic Civilization which is located right next to the Holy mosque.
We will have a short lunch break with a view over the mosque and then continue.
Will end the tour in Qiba Street which connect two Mosques , the grand Mosque and Qiba Mosque which both have significant importance in Islamic history in which the first was the house that prophet Mohammed lived and eventually it's his grave visited by. The second was the first Mosque ever built. you will have a general overview how the city was built and shaped throughout the 1400 years.
After our tour in the city, we will go to one of Madinah's mountains for a picnic like local with some traditional snack.
When we finish our tour we will be going to our hotel to check in.
Overnight in Medina.
Day 7: Medina and Jeddah
Today we will be spending a little bit more time in Madinah so you can rest a little and on the other hand it an opportunity to
witness people getting ready and going to the Holy mosque for prayer.
After that we will be driving to Jeddah, our hotel is located near by the Corniche where you can enjoy an easy walk and
mingle with the local as usually the Corniche is located by the sea and Jaddawis always go there for picnics with their
families.
Overnight in Jeddah.
Day 8: Goodbye & Fly out
After breakfast, the saddest moment of any Expedition: saying goodbye!
Hotels
Shared rooms in 3-4star hotels (when available).
Transport
Private comfortable van and driver.
Entrance Fees
All entrance fees to sites on your itinerary.
WE Tour Lead
Every Expedition has a Wander Expedition tour leader to ensure the best possible experience, smooth logistics and enhanced group dynamics.
Local Guides
Knowledgeable guides throughout our Expedition.
Meals
Some meals mentioned in the itinerary are included, as part of the local immersion and traditional dish tasting activities that we will do.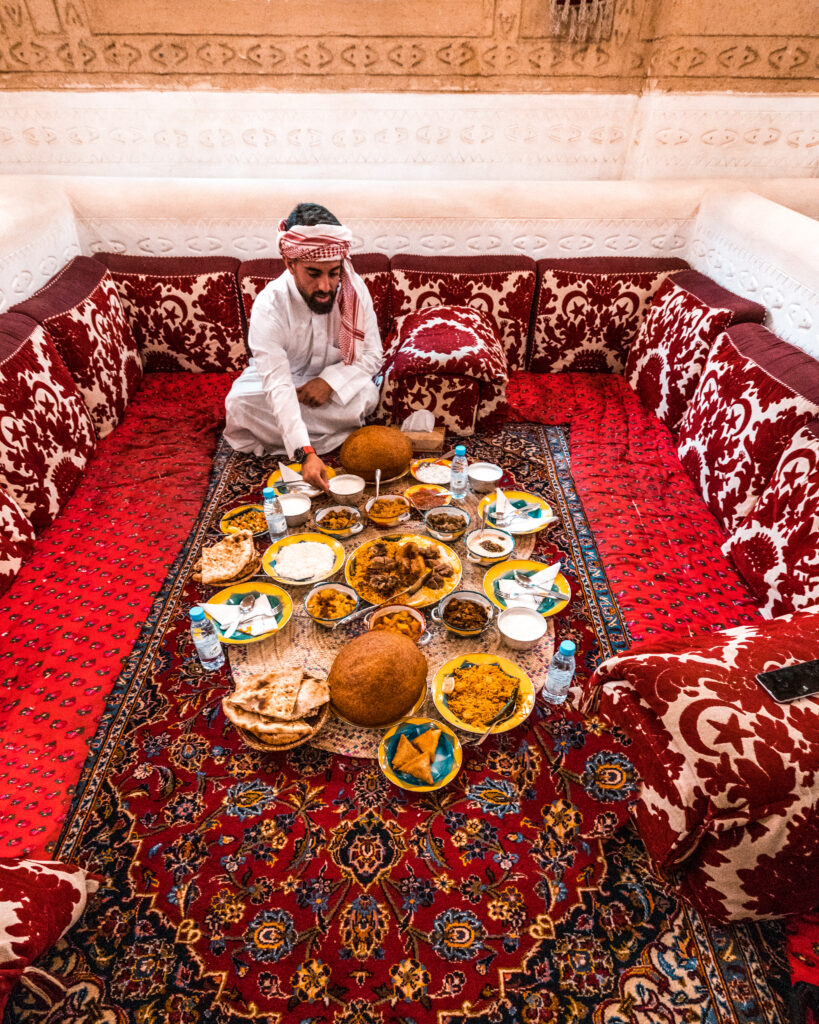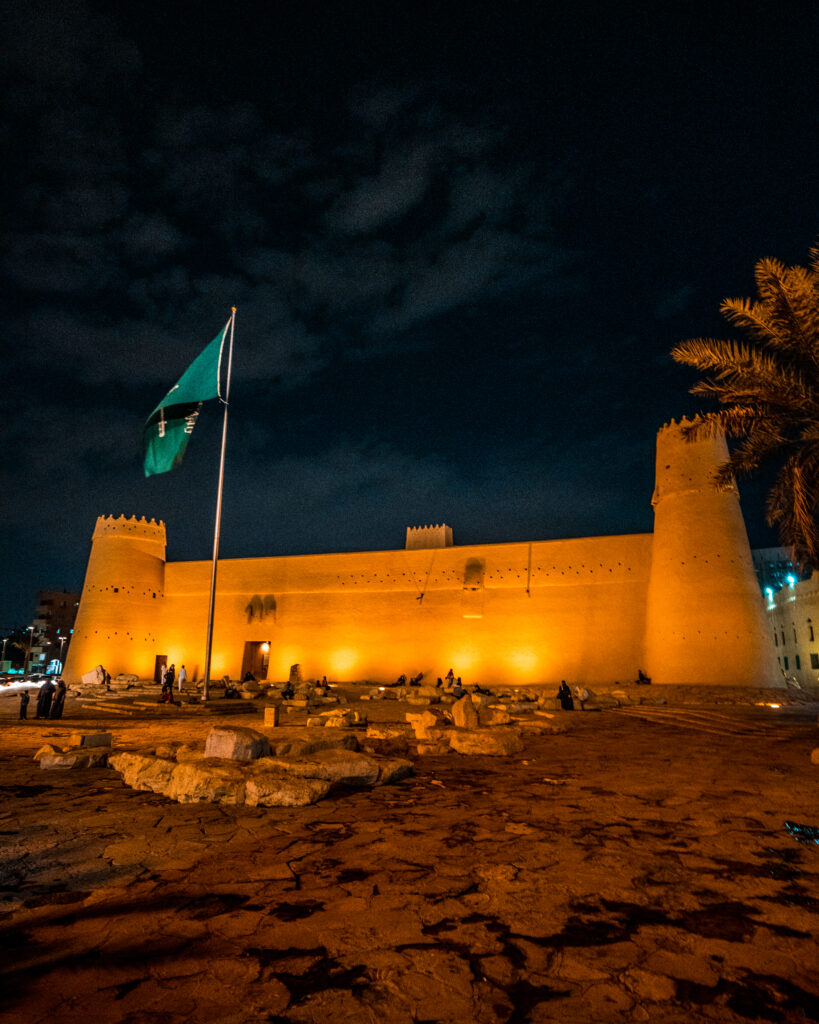 Most nationalities can apply for an evisa online. We will support you throughout the process.
Wander Expedition doesn't book flights for you and is ultimately not responsible for your flight connection, but we can offer guidance and support when you research the best options for you. You will be flying to and from Jeddah.
Saudi is one of the safest destinations we've traveled to in Wander Expedition! It's a fantastic first experience in the Middle East for those of you that want to explore the most secluded side of this region.
This Expedition is for everyone looking to have a fun time, explore an off the beaten path destination, make new travel friends and memorable travel stories. Saudi is the perfect first step into the Middle East, offering great cultural depth, amazing food, hospitable locals and a diversity in the outdoors. It's also one of our most affordable Expeditions and a great way to visit Saudi, since most sights are hard to reach. A fun roadtrip is the perfect style of trip to explore this huge country!
Wander Expeditions is not a traditional travel agency where the first to pay is the first to go. We take you to stunning destinations, but we know the people you share it with is even more important when you travel. That's why we have a refined selection process where we filter and vet candidates to ensure that groups are fun, balanced, diverse and interesting! We make sure candidates are on the same page and share our values of being fun, flexible and fearless, so we can guarantee everyone will have an amazing experience. We create travel families, so #trusttheprocess. Halfway through our process, we share the price with all pre-selected applicants. It only takes 15 min to apply, so you literally have nothing to lose! What are you waiting for to join the Wander Fam?
If you want to be one of the fortunate people selected for our Saudi Expedition III:
Make sure the dates work with you before you start the selection process.
SAY YES and complete our online application form below.
Once you've applied and signed up to Wander Expedition, we'll update you as you move on in the selection process. Check your Spam folder regularly in case the automated emails go there!