Turkmenistan, hailed as the weirdest country in the world, is once again welcoming visitors after several years of closed borders. We have the privilege of being among the first to set foot in this fascinating land, and we are eager to explore its capital, Ashgabat, with its lavish buildings of gold and marble, exuberant landmarks, and bizarre monuments. With 80% of the country covered by desert, we look forward to savoring the beauty of its vast and arid landscapes. And, of course, the highlight of our trip is spending a night at the Gates of Hell! Rumors say that Darvaza Crater, the fiery crater of natural gas, may be closed to visitors soon, making this a rare opportunity to witness its blazing spectacle up close. Would we really want to miss such a once-in-a-lifetime experience?
Day 1: Arrival in Ashgabat, City Tour, and Darwaza Gas Craters
Upon your arrival at the Ashgabat airport, we will meet you and transfer you to your hotel in the city. After check-in, we will begin our city tour by visiting Independence Park, Tower of Neutrality, and the Alem Center Ferris Wheel. We will then head to the Berkarar Shopping Center for some shopping. In the afternoon, we will change our transport to 4WD cars and depart for the Karakum desert, where we will explore the Central Karakum sands and stop for photos. We will then arrive at the ancient Unguz line of the desert and visit the old gas craters. Afterward, we will enter the sands of the desert, follow the tracks, and arrive at the Fiery Gas Crater, where we will see the gas crater at sunset and nighttime. We will camp in the area and have a picnic dinner.
Day 2: Nisa and Return to Ashgabat
We will return to Ashgabat via Nisa archaeological site, which was the 3rd capital of Parthians. We will explore the Old Nisa Fortress, The Religious and Royal complex of Parthian Kings, known also as Mithridatkert, and continue to the Turkmenbashy mosque. In the afternoon, we will arrive in Ashgabat, where you can enjoy some free time before a night drive to see the town in lights and take panoramic photos.
Day 3: Turkmenbashy and Yangy Kala Canyon
After breakfast, we will take a flight to Turkmenbashy and visit the bazaar. Then, we will take 4WD cars to the Yangy Kala canyon, which means "Fiery Fortress" in Turkmen language due to its spectacular view of red, orange, white, and gray color combinations. We will explore the canyon and enjoy the place before stopping for photos while crossing the Big Balkan Mountains.
Overnight in Balkanabat.
Day 4: Nohur Village
We will drive to Nohur village in the Kopet Dag Mountains and stop at Parau Bibi mausoleum, a holy place hidden in the middle of the rock. We will then continue our drive to the village and explore its sights before having dinner and an overnight stay at a local house.
Day 5: Kow Ata and Return to Ashgabat
After breakfast, we will return to the highway and drive to Kow Ata cave. We will descend a long staircase until we reach the underground lake and swim in it as per personal choice. We will then drive to Ashgabat, stopping at Akhal Teke horse farm for sightseeing. Upon arrival in Ashgabat, you will have some free time to enjoy the city.
Day 6: Ashgabat
You will have a free day to explore the city on your own and experience its quirkiness.
Day 7: Fly out
We will transfer you to the airport as per your flight time.
Hotels
Shared rooms in 3star & 4star hotels when available. Camping in Darvaza crater.
Transport
Private van, or 4WD and driver.
Domestic Trains and Flights
All local transportation is included.
Entrance Fees
All entrance fees to sites on your itinerary.
Permits, Clearances and Visa Approval
We'll apply for your tourist visa so you can pick it up on arrival, as well as all the necessary permits and clearances for your visit.
Meals
All breakfasts are included. Some meals where we don't have any other options will be included for our ease: 2 dinners in Darvaza and in Nohur, 1 Picnic lunch at Yangy Kala.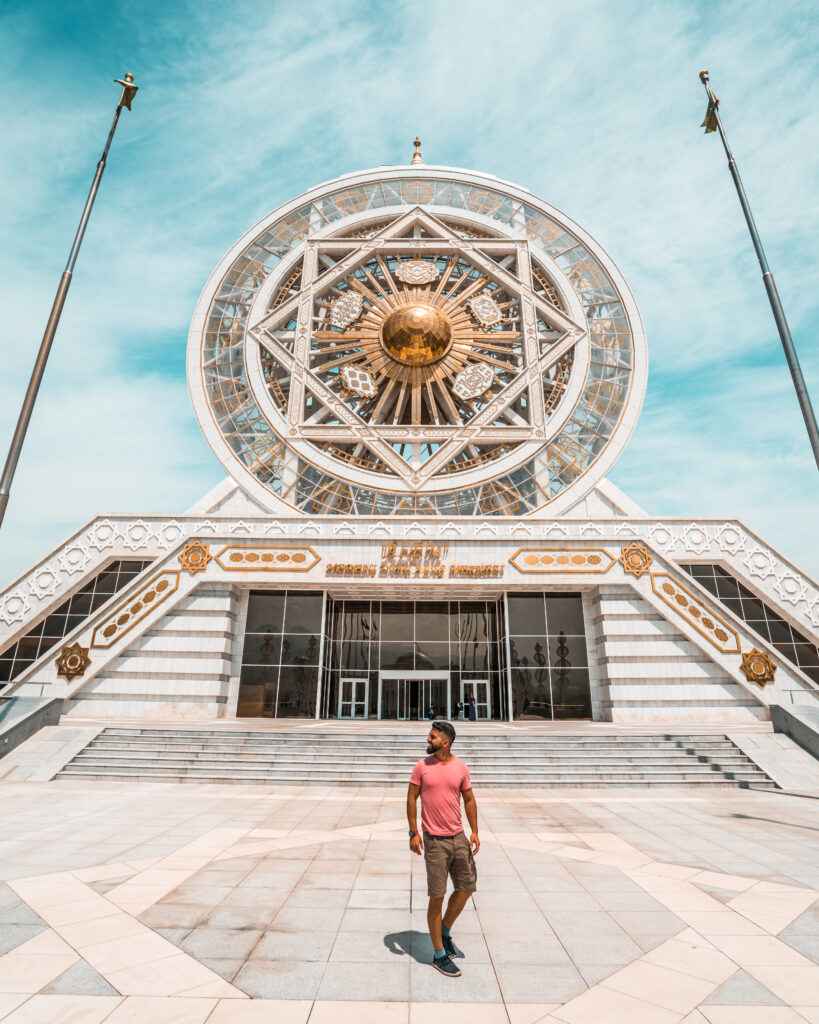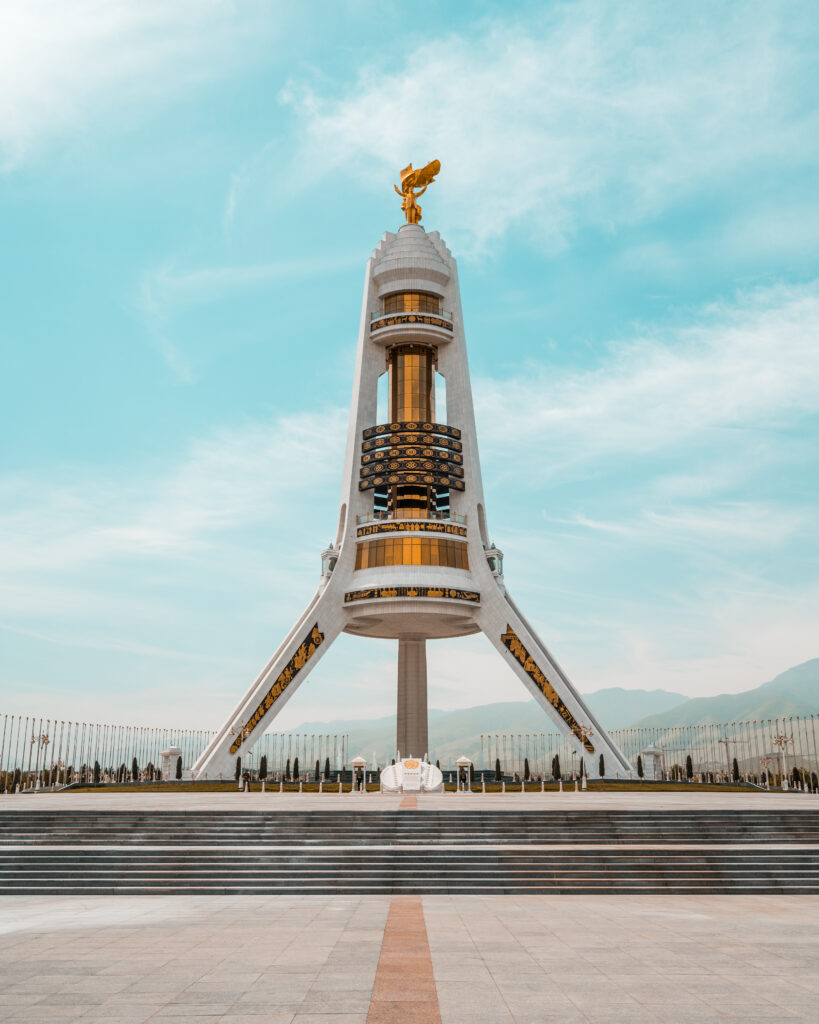 We will arrange your letter of invitation and registration so you can easily pick up your visa on arrival at the airport in Ashgabat.
Wander Expedition doesn't book flights for you and is ultimately not responsible for your flight connection, but we can offer guidance and support when you research the best options for you. You will be flying to and from Ashgabat.
Turkmenistan is one of the safest destinations we've traveled to in Wander Expedition! It's a fantastic first experience in Central Asia for those of you that want to explore the most secluded side of this region.
This Expedition is for everyone looking to have a fun time, explore an off the beaten path country, make new travel friends and memorable travel stories. Turkmenistan is the perfect combination of stunning raw outdoors, weird modern monuments and cities and rich Central Asian culture. It's also one of our most affordable Expeditions and a great opportunity to experience this closed off land!
Wander Expeditions is not a traditional travel agency where the first to pay is the first to go. We take you to stunning destinations, but we know the people you share it with is even more important when you travel. That's why we have a refined selection process where we filter and vet candidates to ensure that groups are fun, balanced, diverse and interesting! We make sure candidates are on the same page and share our values of being fun, flexible and fearless, so we can guarantee everyone will have an amazing experience. We create travel families, so #trusttheprocess. Halfway through our process, we share the price with all pre-selected applicants. It only takes 15 min to apply, so you literally have nothing to lose! What are you waiting for to join the Wander Fam?
If you want to be one of the fortunate people selected for our Turkmenistan Expedition:
Make sure the dates work with you before you start the selection process.
SAY YES and complete our online application form below.
Once you've applied and signed up to Wander Expedition, we'll update you as you move on in the selection process. Check your Spam folder regularly in case the automated emails go there!